Use EDB to PST Converter App for Easily Repairing & Extracting All Mailboxes
Is your Exchange database & mailboxes not working and you are looking forward to extract mailboxes from old or unmounted EDB file? Then,
is the correct solution to extract data from unmounted database, easily.
Are You Facing these Issues: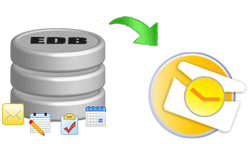 Database is corrupted after upgrading the server and you don't have proper backup
Database unmounted from one server & fails to mount on another server due to several inbuilt issues
Dirty shutdown, virus attacks, running incorrect database export commands & other internal functioning errors.
Right Solution for dealing all errors & database issues, is to convert Exchange EDB file to Outlook PST files with the help of
. Easily extract mailboxes from unmounted edb to pst file after repairing corruption automatically.
Or Run inbuilt Powershell Scripts for Unmounted EDB Recovery (Complicated & Not Safe)
It is advised to run eseutil /mh to ensure the state of the database.
Repair Unmounted EDB Database:

Eseutil /r – use this command to soft repair the damages
Eseutil /p – major command to hard repair exchange database with log files (but it deletes the data from database, so its not recommenced to use)
Why EDB Converter is Highly Demanded for Extracting Mailboxes from Dismounted EDB?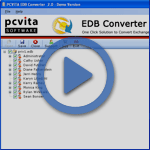 Powershell scripts are completely dependent on Log files, STM and CHK files for EDB recovery and mailbox conversion. In worst conditions, if any of these files are missing then recovery and the conversion process cannot be completed. In this situation
proves to be the true solution for EDB to PST conversion and successful mailbox recovery.
This tool extracts mailboxes from unmounted edb to pst file. Then import PST files into New Exchange Server by Powershell scripts.
Leverage Additional Benefits with EDB Converter:
The software decodes every section of edb file and read each bits granularly. Tracks internal sectors and creates exact PST files from each Exchange mailbox without missing any information.
Repair Corruption: Intelligently repair corrupted, inaccessible, unreadable, offline or unmounted Exchange database files.
Extract Data by Protecting Header: Fully extract emails from edb file to pst with subject, from, bcc, to, address details, attachments, creation & modification dates.
Structured Data Extraction: Save multi-level folder hierarchy of inbox, outbox, personal folders, sent, deleted items etc.
Restore Priv.EDB and Pub.EDB file: Email conversion software ingeniously extracts mailbox from unmounted EDB to PST as well as extract public folders.
Download Freeware Editions for Testing – Later on Buy Full App
It is recommended to download full version of the software for testing the functions practically. Free setup converts 15 items per mailbox. How ever get full featured tool only at $299 to get the recovery done.